Servicing the Mid Atlantic Region
Throughout the Mid Atlantic Region, there are hundreds, maybe thousands of Corporate Centers, Airports, Homeowners Associations, Industrial Parks, Churches, Retail Shopping Centers, Assisted Living Facilities, and Healthcare Complexes that Macadam Company has helped to look their best. We're known for high quality work, and our customer service is unparalled in the industry. View our galleries below, and you'll see for yourself the quality our customers have come to rely on.
Asphalt & Paving
Your parking lot is the first thing customers, tenants and real-estate experts see when arriving at your location. What does your parking lot say about your business?
Working with Macadam Company increases the value of any property through skilled installations and repairs to parking lots. Through our services, we meet with property owners and managers, assess damages, and work together to find solutions you can park on. Not only do we pave and resurface parking lots, we mill, replace, patch, seal and stripe all asphalt surfaces as well.
BENEFITS OF ASPHALT PAVING OVER CONCRETE
There are many benefits of choosing an asphalt paving solution over concrete.
Lower upfront investment
Flexibility resists cracks during freeze/thaw cycles
Better resistance to snow and rock salt damage
Easy to repair
Faster setting time
Easier snow removal
AN UPGRADE TO YOUR PARKING LOT IS AN UPGRADE TO YOUR BUSINESS
Increase occupancy rates, and improve foot traffic. Contact us today to ask about our Asphalt and Paving services. From design to execution, we have the experience and confidence to complete your job.
Concrete
We specialize in custom commercial concrete services and solutions that look great. Our concrete customers rely on us to install curbs, drains, sidewalks, pads and storm inlets and more.
Sealcoating and Pavement Markings
Not all asphalt sealer products are created equal.  At Macadam, we've created a product that's superior to any other design. Our mix ensures a long lasting coating to protect your pavement.
With our specialized sand silo, trucks, crews and mechanics, we maintain a fleet of vehicles that keep us the sealcoating leader in the Mid-Atlantic region.
Proper pavement markings are critical to any lot. Through our evaluation process, we'll help you create a traffic flow that will help keep customers safe, and maximize parking occupancy.
Drainage
After sun damage, a leading cause of parking lot failure is improper water drainage. Macadam can assist you in helping to keep water going in the right direction through the installation of sub surface drains, pipe work, creation of storm water inlets, trench drains and pedestrian-friendly grates.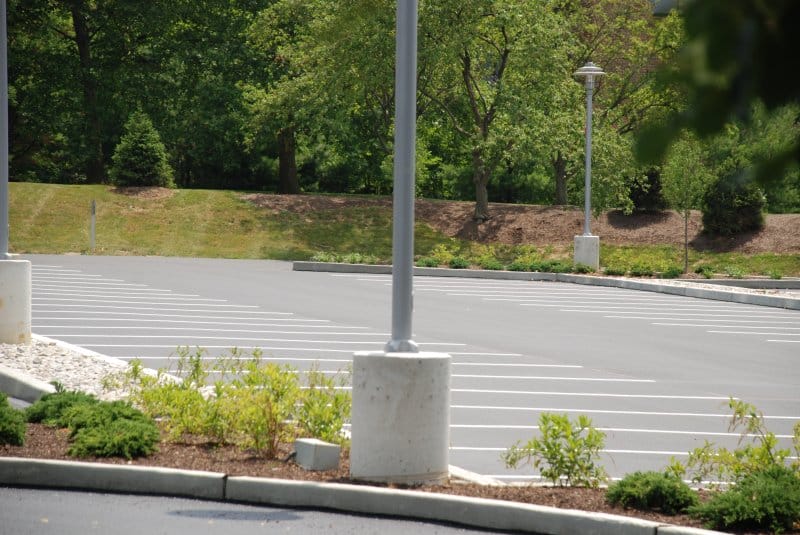 Evaluation
It's hard to find another asphalt specialist that has a team as good as ours. Each member ofMacadams' sales team has worked in the field; they've done the hot and hard work themselves. As sales specialists, they've each been in our industry for over 20 years, and as a result, they know how to read a parking lot. Their knowledge will help solve your property from its' current problems, minimizing future wear and tear.
Need A Quote?
If you are interested in working together, send us an inquiry and we will get right back to you!