Servicing the Mid Atlantic Region
Throughout the Mid Atlantic Region, there are hundreds, maybe thousands of Corporate Centers, Airports, Homeowners Associations, Industrial Parks, Churches, Retail Shopping Centers, Assisted Living Facilities, and Healthcare Complexes that Macadam Company has helped to look their best. We're known for high quality work, and our customer service is unparalled in the industry. View our galleries below, and you'll see for yourself the quality our customers have come to rely on.
Download our Brochure
Asphalt Paving
Macadam specializes in milling and resurfacing existing commercial parking lots and roadways. We evaluate each unique problem and develop a custom paving solution that is ideal for each project. From design to execution, we have the experience and capability to provide a service that will exceed your expectations.
Resurfacing
Milling
Partial and Full Depth Reconstruction,
Parking lot additions
ADA compliant solutions
Drainage
A leading cause of parking lot failure is improper water drainage. Macadam can assist you in helping to keep water going in the right direction through the installation of sub surface drains, pipe work, creation of storm water inlets, trench drains and pedestrian-friendly grates.
Storm water inlet repair and installation
Pipe work
Sub-Surface Drains
Trench drains
Sealcoating
Macadam Company's fleet of 10 tanker trucks, a 60 ton sand silo and professional crews make us the sealcoating industry leader throughout the Mid-Atlantic region. Our tanker trucks are custom built at our facility and supplied with the most modern equipment in the industry.
Through years of experience we have learned that not all asphalt sealers are created equal. We have developed the ideal mix of emulsion, sand, water and additives to create a product that is superior to any other design. Our mix ensures a long lasting coating that exceeds all federal speciCications.
Crack Sealing
Sealing cracks in pavement (crack sealing) has proven to be the lowest cost pavement preservation treatment available. Approximately 75% of cracks in asphalt pavement form into potholes within 3 years if they are not sealed.
Macadam company installs DOT approved hot -pour rubberized sealants heated in a thermostatically controlled, oil jacketed, double boiler meter.
Spray AND squeegee applications of high quality
commercial sealers
Hot -pour DOT approved rubberized crack sealants
Concrete
Macadam Company specializes in a wide range of
concrete services including design, repair and new
installation of concrete:
Sidewalks
Curbing
Dumpster/Dolly Pads
Staircases
Ramps
Pipe Bollards
ADA compliant solutions
Asphalt Repair
Asphalt Repairs are a more economical solution than a complete parking lot replacement. Portions of a parking lot are repaired to remove hazards such as potholes. This work is more extensive than traditional preventative maintenance.
Partial and Full-depth repairs
Potholes
Sub-base excavation
Fabric stabilization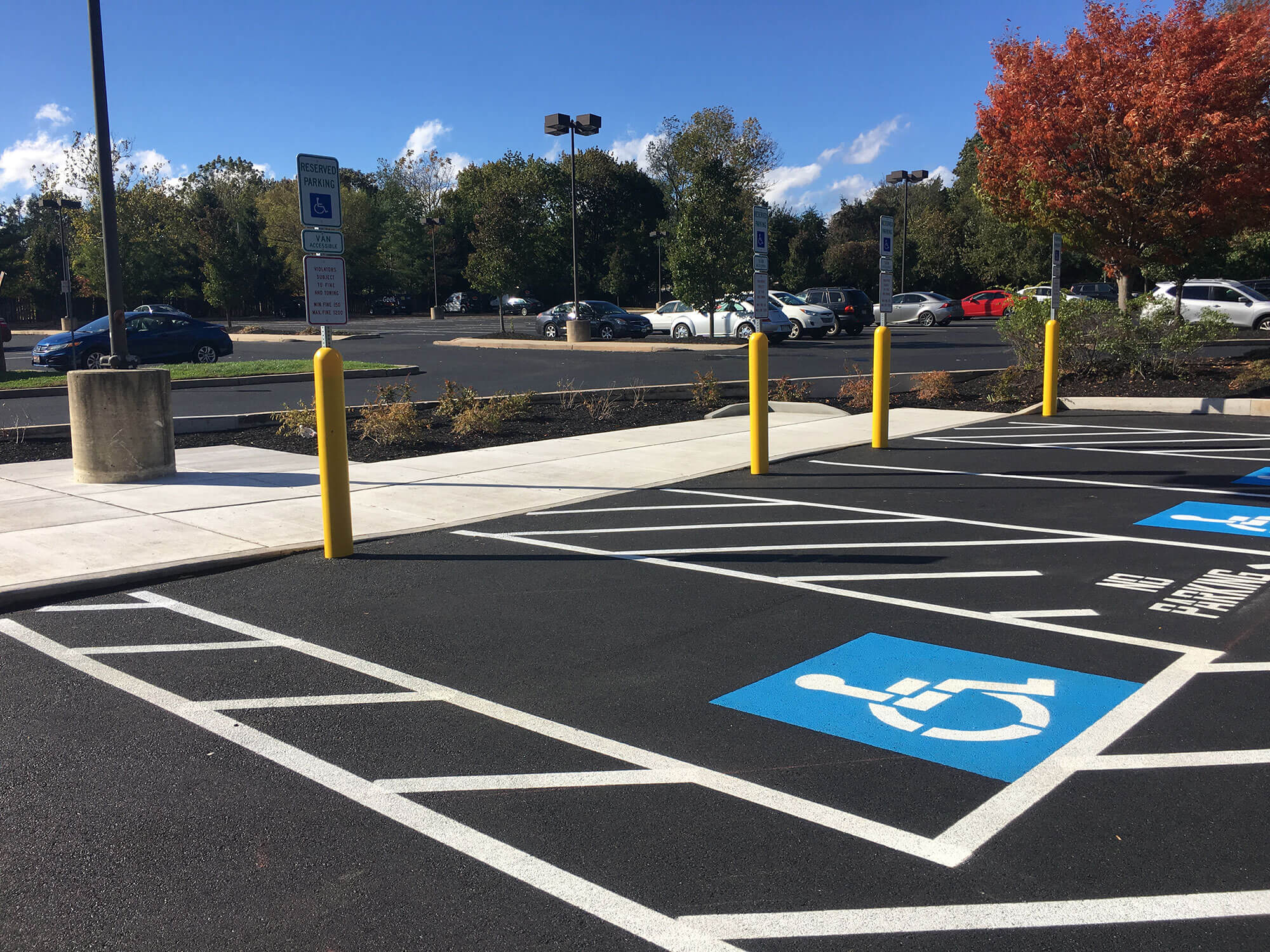 Line Striping
Macadam Company offers custom pavement markings to help keep parking areas safe while also improving the Clow of trafCic.
Parking stalls
Roadway markings
Stenciling
Signage
ADA compliant solutions
Retail, HOA and Commercial
Need A Quote?
If you are interested in working together, send us an inquiry and we will get right back to you!