About Macadam
Macadam Company specializes in the installation and rehabilitation of parking lots in the PA, NJ, and DE corridor. Whether it's a single location or a network of properties, Macadam's experienced estimators and crews guarantee every job is executed with skill and efficiency.
We continue to grow our reputation by exceeding expectations on every project with the full understanding that we are only as good as our last job.
Macadam Company, Inc. was established in 1986 and has a loyalty to, and history in, the Delaware Valley. Each of our sales estimators has been with Macadam for over 20 years, and brings valuable knowledge to each job they consider. While every problem is unique, we have seen most of your issues before; that experience translates to expert solutions, savings and efficiencies.
Our on-site crews come with similar depth.  Each of our foremen has considerable years of experience, and lead teams of skilled specialists in their chosen areas:  asphalt and paving, concrete, drainage, and sealing.
If you're located in the Philadelphia, New Jersey, Delaware and Maryland corridor, contact us to discuss our work and see which lots we've fixed in your area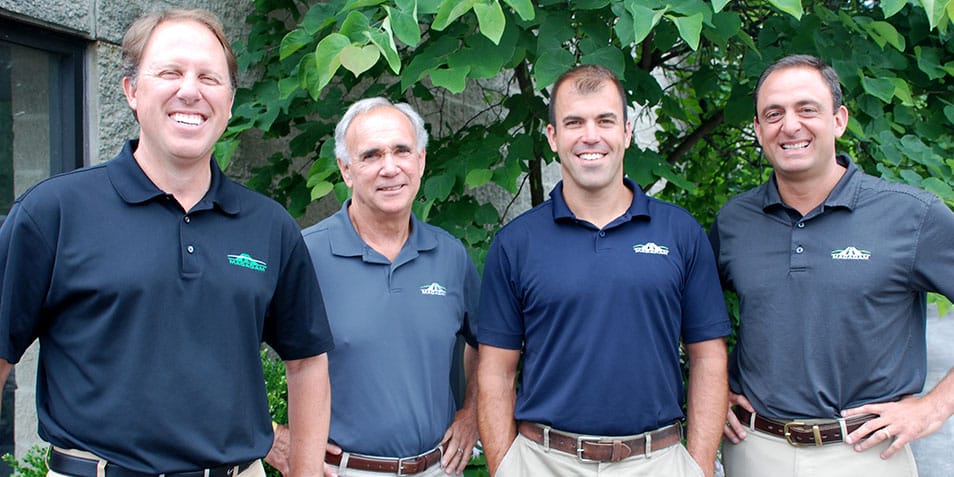 Mark Bevevino, President
To pay his way through college, Mark began his career sealcoating driveways in 1986 his hometown of Warren, PA.  After graduating from Penn State University in 1988, Mark moved to Chester County and as he repaired parking lots, he began building relationships that still exist today.  Civic minded, Mark is involved as a leader of local youth sports associations, sits on many local community and school boards, and has been asked to return to PSU to speak to students about entrepreneurship.  Mark and his wife, Lynn, live in Chester County with their 4 sons and 1 daughter.
Pete Himmelreich, Vice President
Pete began working for Macadam on our field crews in the summer of 1990 and after graduating from York College, joined Macadam Company full-time.   It's been over 20 years, and he's our integral sales leader, forcing everyone to be better.  Like Jeff Bailey, Pete is a life-long resident of the Philadelphia region with a large family throughout the local suburbs. Pete and his wife Tara live in Chester County with their two daughters.  In addition to his coaching in the Coventry Youth Lacrosse League, The Himmelreich's are the founders of the Milestones for Megan Foundation, raising thousands each year for the benefit of children and families who suffer from Fancomi Anemia.
Jeff Bevevino, Vice President
Jeff's asphalt experience began in his teens when he began sealing driveways in his hometown of Buffalo, NY.  He joined his cousin Mark at Macadam Company in 1994 after attending Syracuse University.  Today, he's one of our most valued employees with intimate knowledge of the work, the men, and how to best help our customers.  An active outdoorsman, and involved member of to his community, Jeff is a coach and leader in the Coventry Youth Lacrosse Association.  Jeff and his wife Cindi live in Chester County with their two children.
Jeff Bailey
After owning his own sealcoating business for 10 years, Jeff joined Mark and the Macadam team in 1991.He brought a loyal customer base that has stayed with Macadam ever since.  A lifelong resident of Chester County, Jeff has an intimate knowledge of both our area and the asphalt business from the ground up.  Family comes first to Jeff; he and his wife Nancy have been married for 40 years, and in their spare time, they love to spend family time with their 2 children, their spouses and 6 grandsons.
Ray O'Hara
The newest member of our estimator group, Ray worked for Macadam as a field hand for two seasons before transitioning to the inside team.  In addition to working on job sites, Ray also assists the sales force as they visit job sites, manage customer calls, and create job files.  Ray is a 2011 graduate of McDaniel College and today lives in Montgomery County.
Maggie, Kate, Mel and Lynne May keep the office and crews running at their best!
Our operations team is pretty skilled at moving men and machines to get them where they need to be when they need to be there. It's a complicated puzzle, with as many as 75 men working in the field on any given sunny day. Between Dan, Brad and Josh, there is over 70 years of working with Mark and Macadam Company. Comparatively, Melanie is the new kid on the block, but she keeps all those moving parts organized and under control.
A construction company is only as good as it's team and equipment. We have a lot of confidence in both. Our crews are tenured and knowledgeable, and our equipment is owned by us and maintained by our in-house mechanics.
Macadam's tanker trucks are custom built at our facility; we've supplied them with the most modern equipment in the industry. Our sand silo is unique in our field. With a vast list of equipment, including milling machines and highway-grade pavers, we can just about guarantee that we've got what it takes to fix your pavement problem.
Need A Quote?
If you are interested in working together, send us an inquiry and we will get right back to you!